Sockets that accept mating header pins from the top or bottom are known as dual entry. More information can be found about these connectors here View Dual Entry Connectors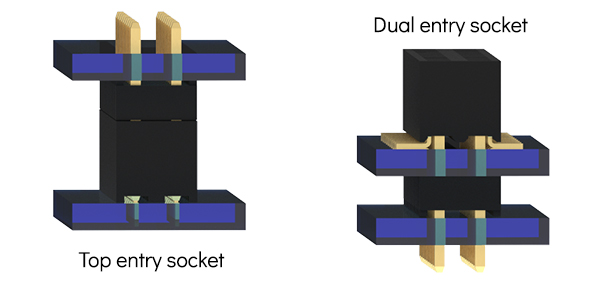 Using a dual or bottom entry socket allows applications that pass through a PCB. Holes are made in the PCB, the mating pin of the header passes through, enters the socket (receptacle) from below and males contact. An example of a dual entry socket is BB02-GQ, the drawing has two PCB layouts. The bottom entry layout includes holes for the pass through header pins.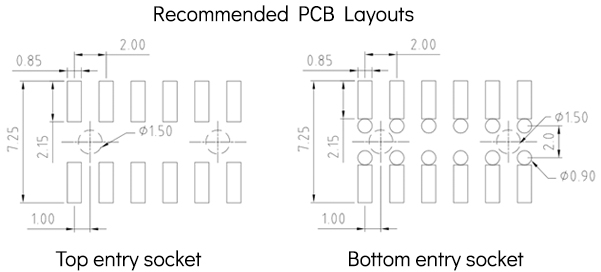 All receptacle drawings reference the socket contact point, which is the actual point of contact between the socket and the header pin. This allows you to approximate the header pin length, however there are more variables than a standard top entry application, including the thickness of PCB to be passed through. This is why GradConn do not recommend mating header pin lengths for bottom entry applications on product drawings. To define the recommended pin length accurately please contact GradConn with all the parameters, we'll then ask our engineering experts to define a header pin length. This will allow a contingency to cater for tolerances - and ensure whenever possible - that the pins don't emerge from the socket, which can cause shorting issues.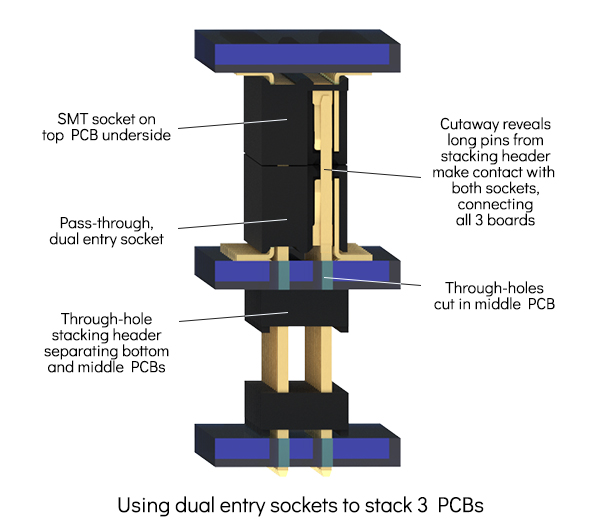 They can also be used to stacking, separating, and connecting multiple boards. The stacking header has a long pin capable of passing through the socket on the mid PCB and making contact with the socket on the top PCB.
If you need help with a board stacking applications please contact GradConn, our expert technical team are ready to help. Contact Us