News Release - 2015-08-04
Fittings SRL and GradConn agree deal to distribute interconnect products in Italy.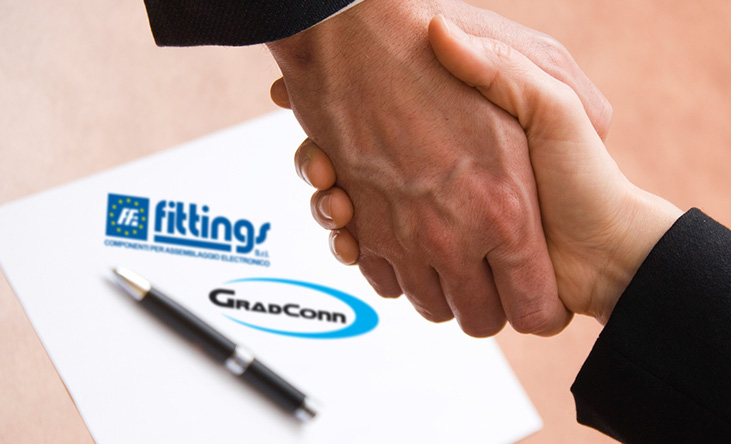 Interconnect specialist GradConn and distributor Fittings srl have signed a nationwide distribution agreement for Italy.
Fittings will promote all GradConn connectors, including an extensive Board-to-board range, SIM connectors, Micro USB2.0 connectors, Wire to Board Solutions and Coaxial cable assemblies.
Commenting on the agreement, Andy Hamlin, GradConn Sales & Distribution Manager said "We are very pleased to be working with Fittings. Our product ranges are complementary and there is shared belief in good customer service. Their focus on electro-mechanical products and knowledge of the Italian market will prove invaluable".
Fittings' Marketing Director, Barbara Babini said "We're very proud to able to widen our offer with GradConn's products, which satisfy our constant search for quality and innovation. We are sure this is an addition that will be much appreciated by our customers and will contribute to win new ones".
Click here for Fittings contact details.
About Fittings
Fittings srl was established in 1980, as a producer and distributor primarily of plastic supports and spacers, cable ties and accessories, faston connectors and passive components. For more information see:
A leading connector manufacturer specialising in:
-Wireless Connectivity Solutions: SIM card connectors & coaxial cable assemblies.
-Board to Board connectors from 1.00mm to 5.08mm pitch spacing.
-Wire to board solutions in 0.8, 1.00 & 1.2mm pitches.
-Micro USB connectors.
With head office in Taiwan and manufacturing facilities in China and Taiwan, we offer high quality components at an economical cost.