Looking for a waterproof SMA jack connector?
By Staff | News Release | 2016-04-01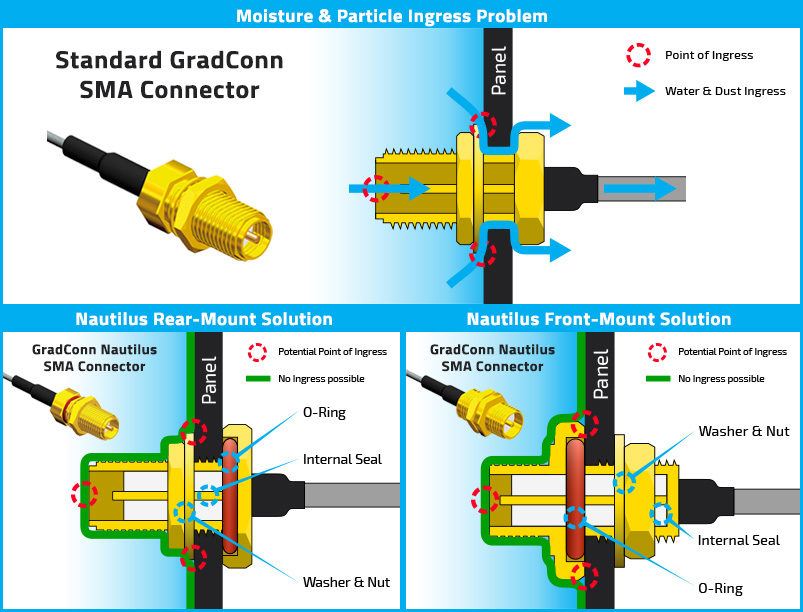 Our customers often seek to prevent ingress of moisture and particles into SMA jack connectors.   The applications range from splash proof, up to fully submersed underwater.
Working hand in hand with customers, GradConn developed a waterproof SMA jack connector.   The Nautilus range of coaxial connectors offers IP67 & IP68 testing to 5 meters depth.  Testing also extends to particle ingress IP6x and pressure.
The image above shows the point of entry for water ingress when the connector is mounted in a panel.   The 'problem' section shows water ingress through the center contact and also thru the panel cutout.
The two 'solution' images show waterproofing of SMA connectors:
Rear mount SMA waterproof connector solution:

This is the most popular type of SMA, with the washer and nut screwing up on the outside of the panel.  The Nautilus solution contains both an external and internal O-Ring to prevent ingress.

Front mount SMA waterproof connector solution:

Using this type of connector allows the panel to be effectively tamper proof, as the washer and nut are tightened inside the panel.
A range of other Nautilus waterproof connector types are available, such as RP SMA, BNC, TNC and RP TNC. Front and rear mount options are available, an example of front mount and rear mount is shown in the image above.
Got to our IP Rated Coaxial Cable Assemblies page to browse existing cable assemblies, build a custom cable and download detailed test data.