News Release - 2012-10-01
Custom Board to Board Connectors – Gradconn can help!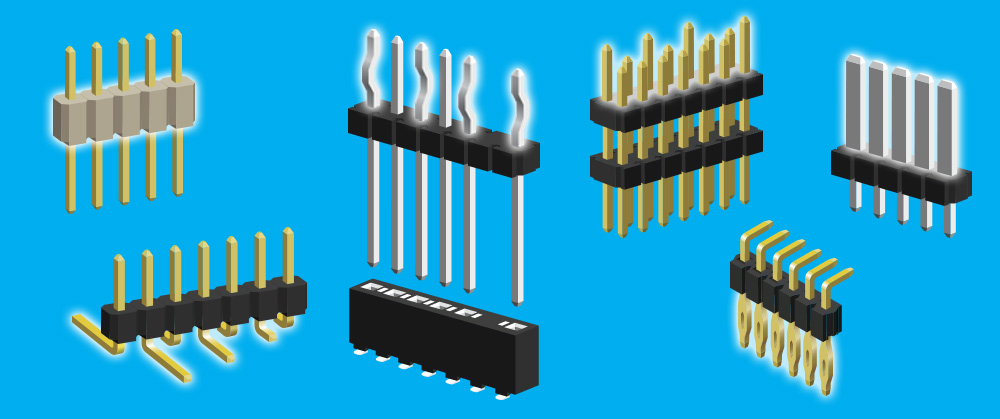 Board to board connector specialists GradConn offer a bespoke connector service. We have many years experience of offering custom products, until now the service hasn't been promoted outside of our core customer base.

The graphic shows some examples of what we offer, for 'standard' board to board PCB connectors numerous tweaks are available:
Custom mating lead lengths on PCB headers – offered as standard on most drawings.
Custom SMT lead lengths.
Blanked holes on sockets and missing pins on headers – offering an inexpensive method of connector polarization.
PCB Header and receptacle insulators – non standard sizes.
Kinked Pins on thru hole parts– for PCB retention during soldering.
Angled pins on headers – angled to your design.
Non standard pin spacing pitch.
In contrast to the basic changes to the standard range detailed above, we also offer a fully bespoke board to board connector design service. Working closely with customers, targeted on medium to high volume opportunities, we provide fast turnaround at both engineering design stage and tooling construction. Our component minimums and pricing, tooling pricing and project volume thresholds might surprise you.

Whether your problem with board connectors is a concept design or a specific application problem contact your local GradConn sales office by phone or email, we have expert staff in each location who can help!
This page shows some of the options in more detail, the form also allows you to uploads photos, sketches and drawings to help us understand your design requirements.