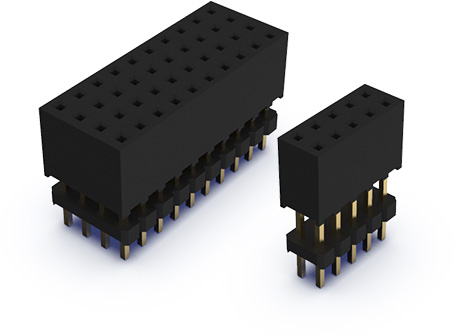 GradConn offer elevated PCB stacking sockets in 2.00mm and 2.54mm pitch, in single in line, dual in line, triple in line and quad in line configurations.
Customers often choose to use stacking sockets in applications where complete isolation of pins is required. Generally in parallel PCB stacking the conventional and most economical method is to use a standard socket and elevated header, however elevated header pins are generally exposed and therefore more at risk of shorting. Where shorting and safety is an issue customers may choose a standard pin header and plug to an elevated socket. When mated, header pins are totally enclosed within the body of the female housing.
Customers may also choose to use a thru hole stacking socket as a means of polarisation, for example, if two PCB stackers are required to physically or electrically then using one stacking header and one stacking socket allows operators to plug the PCB's together in the correct orientation.