Case Study - 2018-09-24
Waterproof coaxial connectors and their contribution to the IoT

Introduction
The Internet of Things continues to deliver benefits to our society and economy, and while most people by now understand that we live in a connected world, there is plenty more to come. This pace of innovation is driven by a widely diverse range of individuals and organisations who spot opportunities within their particular market area. However diverse these innovation activities are, though, their success will ultimately depend on the performance, flexibility and durability of their devices' electronics hardware - in which connectors play a critical role. As a leading manufacturer of connectivity solutions, GradConn continues to enable equipment and devices in the IoT sector, particularly with its line of coaxial connector and cable assemblies. We explore how the GradConn Nautilus RF range has met the increasing demand for environmental protection in IoT applications.
The IoT infrastructure, and edge devices
Before we look as some examples, let's briefly summarise the key components of any IoT infrastructure. This starts (or ends) with edge devices, which can be either sensors or actuators. Sensors, which collect data, can be anything from a simple temperature probe to something more complex like a Fitbit or smart meter. Conversely, an actuator responds to data, by translating it into real-world action. Examples include valves, motors, lamps, loudspeakers and robot arms. There are also devices, such as smart thermostats, that include both sensors and actuators.
Data from edge device sensors is gathered into a nearby gateway, such as a router or mobile phone. This is usually done wirelessly, as running cables to large numbers of sensors, or to mobile sensors, is often impractical. From the gateway, it is routed via the Internet to a cloud-based computing, analysis and storage resource. This converts the incoming data into meaningful, actionable information which can either be fed to a display or printout, or used to generate commands for sending back to edge device actuators.
From this, a picture emerges of an IoT ecosystem populated by large numbers of edge devices, many located in challenging environments, and most needing wireless connectivity. Hence the need for connectors offering sufficient performance to support IoT wireless protocols, while being rugged enough for their devices' target applications - and complying with their space and cost budgets.
Finding the right connector solution
For IoT applications, whilst they may use differing wireless protocols, the need for an antenna connection often exists. It's also clear that the devices are not generally deployed into managed office environments, and must often withstand demanding conditions.
GradConn's Nautilus waterproof connector range allows system and product designers to meet these challenges, with enough product choice and cable building capability to match each individual application. The premium-quality IP67 and IP68 rated connectors offer protection from moisture and particle ingress, whether mated or unmated, along with DC to 3 GHz performance.
The image below takes a closer look at the connectors' IP ratings:

The Nautilus RF connectors achieve these ratings through an internal seal and O-ring, which prevent water and particle ingress through either the inner contact or the panel. This arrangement can be used in both rear-mount and front-mount configurations, with reverse polarity options.
The line comprises fifteen connectors from the SMA, TNC, BNC and N ranges, which can be made up into forty seven standard Nautilus cable assemblies. Alternatively, the assemblies can be configured in hundreds of different ways to meet individual requirements.
For applications where the RF module connects to the antenna via circuit board tracks rather than a cable assembly, PCB-mounted right-angled SMA jacks, in both standard and reverse polarity, are available. Two new connectors will also be added to the Nautilus range in Q3 2018 in the form of Vertical PCB Mount SMA variants.
Below, we look at a representative selection of edge devices to highlight their diversity of application and common use of connectors. Then, we review some of the connector options available, and show how designers can specify solutions to enable their products.
IoT wireless edge device examples
Smart meters: A smart meter monitors energy, gas or water consumption and displays this in real time, typically on an LCD display. The meter also has a communications interface, with the ZigBee wireless protocol being popular in the U.S.
However, as meters become smarter, they are taking on more complex tasks like time-of-use billing and automatic meter reading (AMR). These tasks call for more powerful microcontrollers, wireless radios, information-rich LCDs, and real-time-clocks (RTCs) to supplement the analogue front end (AFE). While first-generation meters use multiple chips to fulfil these functions, the utilities are looking to component and meter suppliers to provide more highly integrated devices to help drive down costs and footprint. At the same time, richer and more diverse data creates more dependence on wireless communications.
Meanwhile, recent trends are imposing further challenges on smart meter designers. In the past, meters could be protected from environmentally challenging locations simply by installing them within purpose-built cabinets; the cabinets could provide all the protection necessary to handle the prevailing conditions. Nowadays, though, constraints on both space and cost mean that the luxury of this outer enclosure is often no longer an option. The onus falls instead onto meter manufacturers to build ruggedisation directly into their meter designs. This becomes a critical issue, for example in Australia, where household water meters are typically installed outdoors in back gardens - and when it does rain, it rains heavily.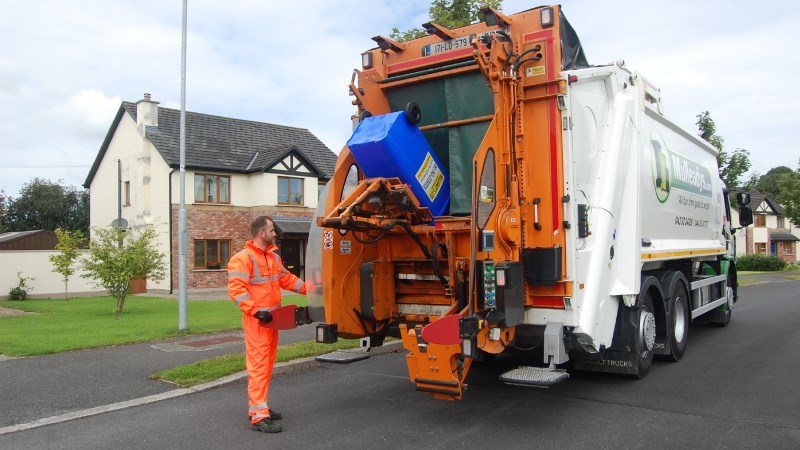 "Waterproof connectors are mandatory for wheelie bin trucks and the harsh environment that they are being used in. Nautilus works perfectly, providing high IP rating and assuring that our BinWeigh 03 system remains constantly connected to the Internet" - Piotr Szablowski, Technexo
Spotlight Application
Waste management: TECHNEXO has utilised the IoT for dynamic weighing of wheelie bins, and processing the information received from weighing equipment fitted on wheelie bin collection vehicles. Once fitted, these vehicles use broad 3G/4G GSM data coverage to continuously receive live lift data directly from the bins. Every customer is given centralised access to their own cloud-based portal, where they can view all key performance indicators and reports relevant to their business.
These reports can be generated daily, weekly or monthly, and customised for each fleet manager's or CEO's information and time-frame needs. The reports are emailed or texted to users' mobiles on a scheduled basis, or in real time if immediate action is required.
The system constantly monitors itself to minimise possible data losses. Any problem spotted is reported in real time to relevant personnel.
Dynamic route planning for commercial waste collection is another benefit the technology brings. Collection routes are made more efficient as they happen when bin requires emptying. Compared to waste simply being collected en route, this new method further saves time.
Agri-Tech:
Innovations in Agri-tech include precision agricultural tools that improve decision-making and efficiency, and solve agronomic challenges around the globe. It is clear that these receiver systems will encounter varying weather conditions thus a suitable sealed connection is required.
Solutions such as GNSS-based GPS receiver systems that offer accuracy, repeatability and range for agricultural tractors are now available. They serve as a complement to the built-in guidance capabilities of displays and assisted and integrated steering options.
Entry level GPS receivers is tend to have its single-frequency design which handles general mapping and AutoSwath functions. More sophisticated units are fully scalable with rugged Smart Antenna, designed to meet the needs of extended Real Time Kinematic (RTK) baselines in excess of 20 miles. RTK satellite navigation is a technique used to enhance the precision of position data derived from satellite-based positioning systems (global navigation satellite systems, GNSS) such as GPS, GLONASS, Galileo, and BeiDou.
WiFi capability allows for easy web browser-based setup from any smartphone or tablet.
Livestock: There has been a boom in companies dedicated to providing information about livestock health and status, without need to be in the barn and on location constantly.
Systems are now available with outdoor wireless receivers that integrate pastures and outdoor areas into the field it covers, with distances to the grazing area of up to 2km. These receivers are often powered from a solar panel, backed up by a battery that can provide power without solar radiation. Information can also be collected from ear tags at various distances. Having a sealed coaxial connection keeps the system clean from all the dirt exposure.
These systems provide automated monitoring of all parameters on the pasture, round the clock. This includes real-time cow localisation, heat detection, rumination and health monitoring functions.
Mining:
Nautilus has also found its way into mining applications. Waterproof coaxial assemblies have been designed into devices such as remote firing devices (RFDs) that allow engineers to initiate a blast at up to 3 - 5 miles' distance, eliminating risks from flying rocks and debris. These RFDs are suitable for both surface blasting and underground mining applications via a leaky feeder system. Sequential firing, motion detection and GPS increase safety and productivity.
Two-way line-of-sight (LOS) communications over the 3 - 5-mile distance is also typically supported in these devices, using digitally encoded addressing. The system uses intelligent message encoding and validation technology to create a fast, reliable and safe remote firing device. Having a solid connection between equipment is paramount and one of the primary reasons why Nautilus is used as a critical communication connection.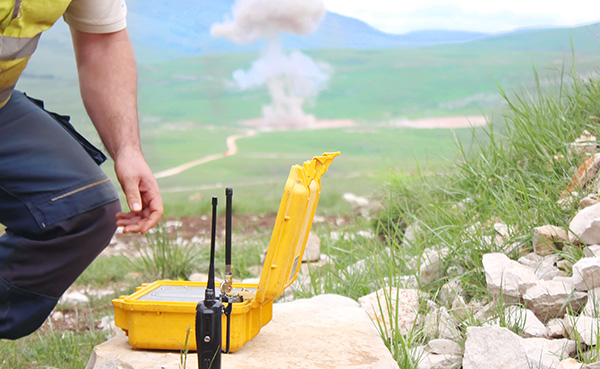 Conclusion
As IoT innovation drives the need for RF connectivity in ever more harsh, wet or dirty environments, the growth in demand for IP-rated RF assemblies is growing accordingly. The Nautilus range can help engineers to meet this demand with a wide choice of competitively-priced, premium quality connectors and assemblies, with waterproof TNC, N and BNC as well as SMA options.
Customers can prepare virtual designs using GradConn's downloadable 3D models; they can then specify exactly the cable they need, using the web-based Cable Assembly Builder, while still benefiting from short lead times.
All products are rated to both IP67 and IP68 standards with test reports available from the GradConn website.