News Release - 2016-02-05
New connector solutions catalogue showcases breadth & depth of range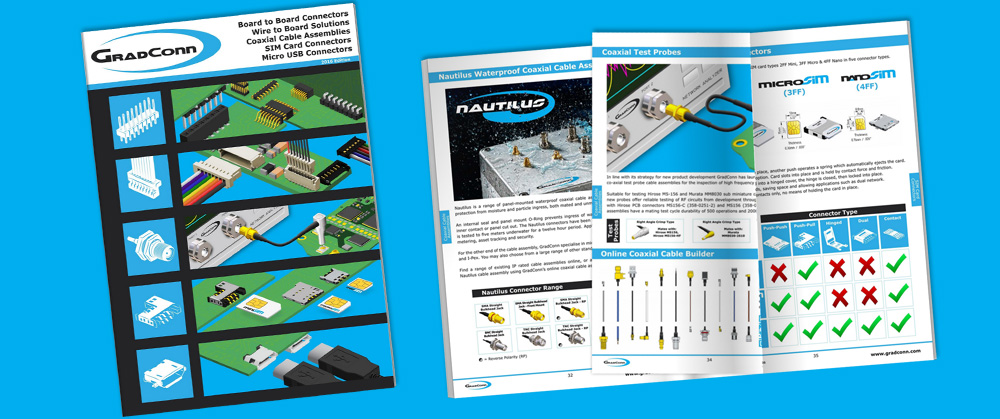 GradConn, has released its new, fully up-to-date product range displayed perfectly in the company's new catalogue. The board-to-board connector specialist's latest publication clearly shows one of the industry's most complete range of PCB connectors, solutions and cable assemblies.
Displayed in full colour over more than 40 pages, the 2016 GradConn product catalogue features easy to read large print text and annotated, exploded diagrams for rapid user selection and maximum coherency. The front cover itself acquaints the reader with the GradConn lines including coaxial cable assemblies, wire to board solution and micro USB connectors.
The catalogue also highlights key new products, such as the tiny Nano SIM connector for 4ff SIM cards, the Nautilus range of IP68 rated waterproof coaxial cable assemblies and the expanding range of fine pitch wire to board connectors. Technical specifications are given for each product variant leaving the user in no doubt that they are choosing the right product for the right operation.
Selection tabs on the right hand side of each page make it easier still to know exactly which line the reader is browsing and should they have any questions about the product range, full contact details are on the reverse of the catalogue.

GradConn's website is optimised for handheld devices, QR codes throughout the catalogue take the user directly to the associated range online; perfect for on-the-go users that demand instant product selection and sample ordering.
Once again, GradConn shows why it's a leader in PCB applications with its new 2016 product range allowing the user to release their product to the market as easily and as hassle free as possible.
To request your catalogue please email sales@gradconn.com or visit http://www.gradconn.com/Files/Catalogue/gradconn-interconnect-catalogue.pdf to download your copy.