Applications - 2015-05-13
Continually expanding range of micro connectors for SMART applications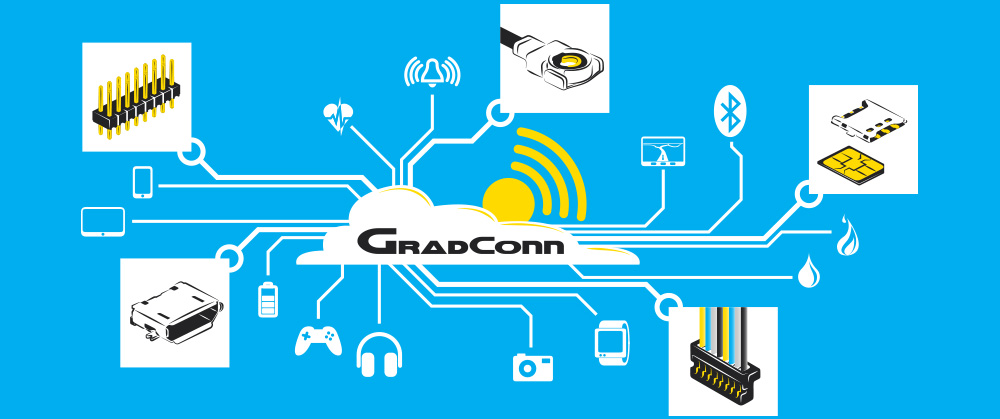 The demands for connectivity between devices and the desire for slimmer, lighter and more portable products is driving the connector industry at a pace to offer smaller solutions. For this reason GradConn is continually tested by its customers to evolve interconnect products that can meet the challenges of today's connected world head on. In direct response GradConn has launched a number of new products recently, amongst them is a new Nano SIM connector designed perfectly for 4ff SIM cards and a range of fine pitch wire to board connectors, which offers tiny footprints and mated heights.
What's more the range of solutions also includes Micro USB connectors and 1.00mm pitch board to board connectors. Micro Coaxial cable assemblies achieve wireless connectivity in the smallest form factors, using 0.81mm diameter coax cable and connectors, such as Murata's JSC with a mated height of 1.0mm.
Typical applications for these products have expanded as technology, both wireless and mobile, has reduced in cost. From wireless vending machine monitoring, security bracelets for children and the elderly, through to livestock tracking and electronic tagging, the need for SMART solutions is growing as they become more and more ingrained in everyday life.
Andy Hamlin, Sales Manager at GradConn commented. "GradConn are at the forefront of the innovation in the SMART market place, we have an exciting line up of super miniature products that have a perfect synergy for device-to-device connectivity".
If you're designing a smart device and space is at a premium contact GradConn today for design advice on the full range of products.