Connectors Demystified - Bottom Entry Board to Board Connectors
By Staff | News Release | 2016-04-02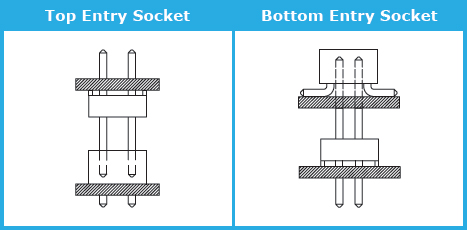 GradConn have created a guide to explain bottom entry board to board connectors, customers are often confused by the variety of board to board connectors female sockets on offer.
GradConn have forty five vertical PCB sockets with leaf spring contacts in the range. Where sockets are described as dual or bottom entry they may accept header pins from underneath the PCB. Customer must drill holes in the PCB to achieve this type of design, details of the required PCB cut-outs are shown on GradConn's product drawings. You can see an example in the 'bottom entry socket' image above.
Using a PCB socket in bottom entry mode allows customers to connect from the underside of the PCB, this allows very low profile parallel PCB stacking solutions, which depending on pitch might be as low as 2.00mm to 3.00mm above the PCB. It also allows designs which pass through the PCB to connect more then two printed circuit boards in parallel orientation. You'll find more information about that here.
Both surface mount and through hole connectors have bottom entry options.
That's our guide to bottom entry board to board connectors finished. We'll be producing more of these guides in the weeks and months to come. Please contact us if there is anything special you'd like us to cover.