Applications - 2013-10-30
Connectors for Home Automation
Home automation is rapidly evolving from a luxury few people could afford into a technology for mass consumption that will be in most homes within a few years. The global home automation market is growing at over 30% a year and expected to be worth US$9.5 billion globally in 2015.
Technology advancement and innovation represents the key driving factor for the growth of the home automation market. Demand is growing for cost efficient wireless home automation products to reduce installation and maintenance cost. Wireless technologies such as Z-wave, Zigbee, and EnOcean are seen as the way to achieve this.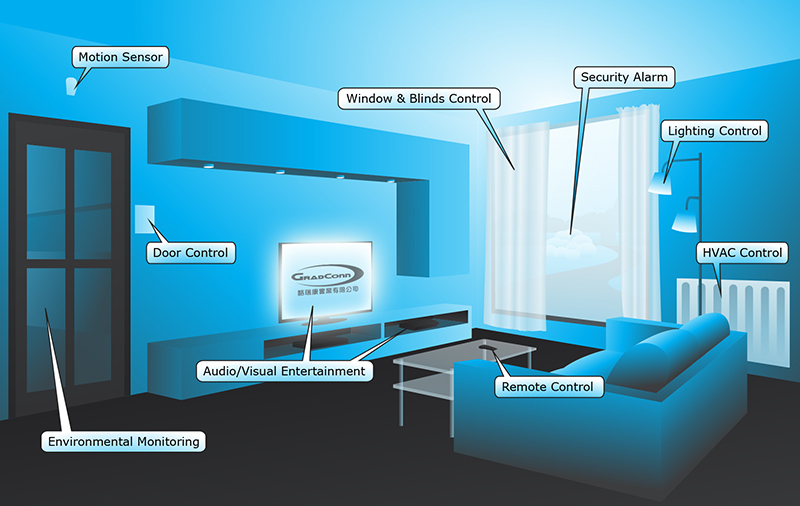 GradConn's range of board to board connectors, SIM card connectors and RF Coaxial Cable assemblies have been used by a number of the leading manufacturers in Home Automation. Our products can be found in main control units and in components through the system.
Short-range wireless technology controls the wireless system around the home via the control panel, however remote control elements allow consumers to access their home devices while away from home by use of a smart phone. This communication is handled by the mobile phone/GSM network, for example switching on an oven remotely so your dinner is cooked as you walk through the door or setting the to the correct temperature heating to ensure your house is warm when you return home. Alarm systems can contact your phone by text message when triggered.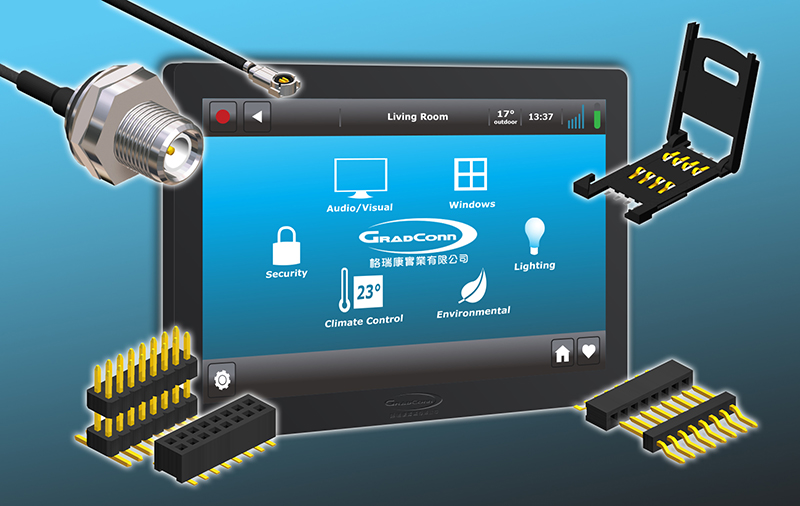 GradConn offer connectors for home automation applications.  SIM connectors and coax cables enable the link between communication modules and the GSM network. The SIM card stores the required phone details for the control panel to interface your smartphone. GradConn offer Mini & Micro SIM card connectors in many configurations including push-push, push-pull, hinged and open contact types.
If an external antenna is required, it will be necessary to break through a bulkhead of the control unit and a coaxial cable assembly is needed. This mates with PCB board of the communication module (using a tiny RF connector PCB plug and cable socket such as Hirose U.FL) and by the use of a bulkhead mount RF connector, such as SMA allow plugging to an antenna with appropriate connector interface. GradConn offer a wide variety of coaxial cable assembly options.
Fine pitch Board to board connectors are generally used in control panels as they allow ultra slim connections either in parallel PCB mating with a mated height of just 3.1mm. Alternatively where customers require end-to-end PCB mating, the height above the PCB is a tiny 1.5mm. Use GradConn's PCB mating tools to find the perfect solution for your connector design.